Type Dreams
A downloadable game for Windows

"To save time is to lengthen life." - Motto of The Remington Typewriter Company (1892)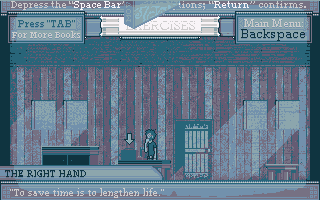 Choose from panoply of tools, exercises, stats / analytica, and personalized guidance from World's Fastest Typist Sean "Arenasnow" Wrona to speed your ascent into typing mastery as you prepare to race the fastest qwerticians ever to touch the home row.

Steady your growth curve with a dose of sugar in the form of original and classic poetry and creative texts, puzzles, secrets and such desserts.
Featuring original writing by ████, ███████ and ██████, as well as 20 other other poets, keyboard experts, novelists, hard-news journos, professors, and comedians. With an original all-piano soundtrack featuring ██████ ██████, ██ █████, ██████████, and Dustyn Moore's debut recording.

Coming in the next build: Pick from over 30 typing legends for a cross-country roguelike sprint, going contest to contest in the year 1892, when all of the best from history and today are called together to determine a new Pantheon of Dactyl Tach.
●TYPE•DREAMS● is ready to play right now, and it's undergoing further development. (All future updates are included in the price of each download, and all saved data is scripted to be compatible with upcoming content. There's already a mountain of new writing, music, and content stacked up for the next release, but I'm playing it safe by releasing only after testing.)

PLEASE feel free to reach out either here, on the msg board thing, or on twtr (@richardhofmeier) with questions, comments, praise, selfies, braggy screenshots of your amazing speeds, or threats of litigation.
Thank you for Type Dreamin'.
Purchase
In order to download this game you must purchase it at or above the minimum price of $5 USD. You will get access to the following files: